← Back
SU Bucks - Any Amount $1.00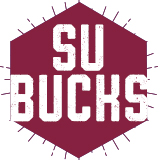 Add the amount you need!
$25 minimum purchase required
Added to your dining account automatically!
SU Bucks are additional funds that can be purchased at the Dining Services Office or online (at SusquehannaUniversityDining.com) at any time. SU Bucks can be used all over campus – University vending machines, Blough-Weis Library, Print Shop, Student Activities, Health Center. It can also be used for food if/when you run out of flex.